DISTRICT 24 Newsletter Alvin Levy 2006.3
Honolulu NABC
Hawaii is a paradise, and everyone who came had a great time. Unfortunately the attractions of Hawaii kept many of the players who came away from the tables. The final table count of 8606 was 14% below expectations. The Hilton Hawaiian Beach Resort, with views of the Pacific, was a fun place to be. There were nearby restaurants and shopping and the playing areas were well lit and spacious.
District 24 Players shine in NABC+ Events
District 24 players continue to shine in NABC+ events, with wins in the Victor Mitchell BAM Teams, Senior KOs and Reisinger BAM Teams, along with seconds in the Mitchell BAM, Marsha May Sternberg Women's BAM Teams, Edgar Kaplan Blue Ribbon Pairs and Reisinger BAM Teams. Top 20 finishers in NABC+ events are listed below.
Bobby Nail Open Life Master Pairs: Michael Rosenberg, 4th; Roy Welland - Bjorn Fallenius, 13th.
Helen Sobel Smith Life Master Womenís Pairs: the highest finisher was Margie Gwozdzinsky, 33rd .
Victor Mitchell Open Board-A-Match Teams: Michael Rosenberg - Zia Mahmood - Steve Weinstein - Bobby Levin, WINNER; Jim Krekorian, 2nd; Christal Henner-Welland - Roy Welland - Bjorn Fallenius, 3rd; Joe Grue - Martin Fleisher, 8th; Michael Moss, 12/14th; Chris Willenken, 12/14th; Jimmy Cayne, 15th; Paul Bethe, 19th; John Fout, 20th.
Marsha May Sternberg Womenís Board-A-Match Teams: Debbie Rosenberg - Jill Levin, 2nd; Judi Radin - Sylvia Moss, 3rd; Margie Gwozdzinsky, 7th.
Edgar Kaplan Blue Ribbon Pairs: Jim Krekorian, 2nd; Jimmy Cayne, 4th; Alan Sontag, 5th; John Hurd, 7th; Bjorn Fallenius, 9th; Joe Grue - Brad Moss, 14th; Winthrop Allegaert - Jaggy Shivdasani, 19th.
Senior Knockout Teams: Amos Kaminski, WINNER; Mel Colchamiro, 3/4th; Mark Feldman, 5/8th.
Reisinger Board-A-Match: Joe Grue, WINNER; Brad Moss, 2nd; Nick Nickell, Alan Sontag, 4th; James Cayne, 5th; Mark Feldman 6th; Jim Krekorian, 7th; John Hurd, 9th.
Ethel Keohane North American Swiss Teams: David Maidman - Marin Marinov, 7th; Kevin Bathurst, 9th; Mel Colchamiro - Janet Colchamiro, 13th.
Jim Krekorian shares the 2006 Herman Trophy. Jim Krekorian was second in the Edgar Kaplan Blue Ribbon Pairs and Victor Mitchell Open BAM Teams and seventh in the Reisinger BAM Teams, giving him 334.13 and a tie with partner Drew Casen for the Herman Trophy. The trophy goes to the player who earns the most masterpionts at the Fall NABC. Joe Grue, with a win in the prestigious Reisinger BAM Teams, finished fifth.
The 2006 Player of the year is awarded to the player who wins the most masterpoints in NABC+ events in 2006. Bob Hamman was the winner, with 773 platinum points. Bjorn Fallenius was third with 722 platinum points and Joe Grue finished sixth with 605 platinum points.
World Bridge Transnational Championships in Verona, Italy
In transnational events players from different countries can form partnerships and teams. The five main events (Rosenblum and McConnell Teams, Mixed, Open and Womenís pairs) were dominated by Americans.
Bobby Levin and Steve Weinstein were silver medal winners of the most prestigious pair event, the Open Pairs.
Irina Levitina and Kerri Shuman were gold medal winners in the Women's Pair and Janice Seamon-Molson took the silver medal playing with Sabine Auken-Zenkel of Germany.
All the medals in the Mixed-Pairs went to Americans. Karen McCallum and Matt Granovetter won the gold medal, Jill and Bobby Levin won the silver medal, and Joanna and Lew Stansby won the bronze medal.
In the Rosenblum Teams, Rose Meltzer, Roger Bates, Kyle Larson and Alan Sontag were on the gold medal team, along with Geir Helgemo and Tor Helness of Norway. Christal Henner-Welland and Marc Jacobus were on the silver medal team along with four Swedish players. The team of Roy Welland, Bobby Levin, Chip Martel, Lew Stansby and Steve Weinstein, along with Bjorn Fallenius, playing for Sweden, lost in a playoff for the bronze medal.
In the McConnell Teams, Carlyn Steiner, Narinesa Letizia Janice Seamon-Molson, Tobi Sokolow, were on the gold medal team, along with Tatiana Ponomareva and Victoria Gromova from Russia.
Also held as part of the championships, was the 10th World Computer-Bridge Championship. As you know I organize and run this event. For info on all the computer-bridge championships, see http://www.computerbridge.com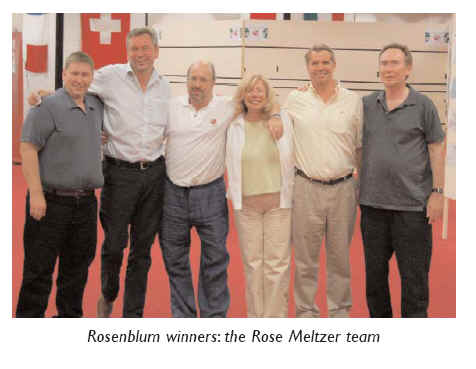 Second First for Juniors
At the 11th World Youth Team Championships in Thailand, held from July 29 - August 8, 2006, the USA retained the World Junior Team Championship. Congratulations to team members Joshua Donn, Jason Feldman, Ari Greenberg, Joe Grue, John Kranyak and Justin Lall. Greenberg, Grue, Kranyak and Lall were on the winning team last year.
USA I Junior team along with coach Bob Rosen.
ACBL State-of-affairs
Membership remains constant at approximately 156,000. Membership has been level for the past few years.
Finances
Our break-even budget for 2006, of approximately $10,000,000, will end with a small loss of approximately $150,000. Major factors in the budget include the lower than expected table count in Honolulu, the unbudgeted expense of approximately $160,000 for ACBL-wide (all Units and Districts) liability insurance coverage, and the sale of the ACBL Product Store to Baron Barclay Bridge Supplies.
The 2007 Budget is estimated to product a surplus of approximately $150,000. There will be no increases in dues. Tournament expenses to sponsoring organizations will increase slightly. The budget includes a cola increase in Directors salary of approximately 4%, which will be passed on to tournament sponsors. The expense sheet will actually show an increase in Directors fees of 8%. This added 4% is a so called catch-up as Directors fees have been lower than actual costs. The added 4% will be offset by an equal reduction in table sanction fees. The end result is equivalent to a 4% increase in Directors fees and no increase in sanction fees.
Sale of the ACBL Product Store to Baron Barclay Bridge Supplies
The reason for a surplus next year, without any increases in fees (except for the 4% Directors cola), even with the ACBL paid for Unit and District liability insurance, is the sale of the ACBL Product Store to Baron Barclay Bridge Supplies. There will be a considerable reduction of staff, storage space, and other related expenses, and a contracted income from Baron Barclay Bridge Supplies of approximately $200,000/year for the next seven years. The agreement give Baron Barclay rights to use the ACBL name and logo. It is expected that Baron Barclay will give excellent service to our members.
Board Actions
A motion to award ACBL masterpoints at the European Open Bridge Championships was defeated 19-6. Awards were given once before, at the Menton European Championships. This overwhelming dissent points to an anti-world bridge organization feeling, including the World Bridge Federation. Cooperation between bridge organizations from around the world can only help to spread bridge and help to publicize the game. I was re-elected for a three year term to represent the ACBL on the Executive Council of the World Bridge Federation, and will continue to press for more international cooperation.
A motion (my motion) to approve the establishment of an ACBL Foundation to fund educational, charitable, social, scientific and historic endeavors that either promote bridge or are for the benefit of bridge players or bridge entities was defeated 13-12. Our current Charity and Education Foundations are limited in many regards. They cannot accept tax-deductible contributions toward the ACBL Library or Hall of Fame, or fund specific ACBL projects. There is a fear that forming this Foundation will lead to the slow death of the other Foundations.
The requirement for clubs to hold an ACBL Charity Game before they can hold any other charity game has been eliminated was approved unanimously.
A motion to allow part time ACBL Directors to be voting members of Unit or District boards was overwhelmingly defeated.
Repeat of the future GNT and NAP Eligibility requirements
For the GNT, a memberís principal physical residence as of September 1st of the year prior to the National Finals shall establish the District in which the member is eligible to participate.
For the NAP, a memberís principal physical residence as of June 1st of the year prior to the National Finals shall establish the District in which the member is eligible to participate.
If a player wishes an exception from the requirements of sections A and B above, he must begin the process no fewer than 60 days before the start of the club level games in either event.

For players participating in the Championship Flight in the GNTs and Flight A in the NAPs, the player must seek permission,

in writing,

from the District Director of the District in which he/she lives and the District in which he/she wishes to play.

Both District Directors must agree for the exception to be granted.

This written permission from both District Directors will be forwarded to the Credentials Committee for final approval.

If the Directors do not agree, the exception is not granted.

There is no appeal from this decision.
Currently, the ACBL Credentials Committee is not allowing any exceptions to these regulations. They will review the request of players who have multi dwellings. This applies to the top level of the GNTs and NAPs.
2007 ACBL Goodwill Committee and Charity Committee Appointments
Congratulations to the hard working and well deserved recipients who are awarded permanent appointments.
Goodwill Committee
Susan Jackowitz
Susan Schnelwar
Steve Conrad
Robert Frick
Charity Committee
Marci Miron
Marion Madoff