DISTRICT 24 Newsletter Alvin Levy, District Director 2007.3
published after each NABC
Contents:
• 38th World Team Championships, Shanghai, China, September 29-October 13, 2007
• 11th World Computer-Bridge Championships, Shanghai, China, October 3-8, 2007
• 2008 World Championships, Beijing, China, October 3-18, 2008
• NEW Laws of Duplicate Bridge
• Report on San Francisco NABC
• 2007 Goodwill and Charity Committees appointments
38th World Team Championships in Shanghai, China
September 29 - October 13
The World Bridge Federation and the Chinese Bridge Federation hosted the 38th World Team Championships in Shanghai, China, September 29 - October 13. The major events included the 38th Bermuda Bowl, the 16th Venice Cup, the 4th Senior Bowl, and the 6th Transnational Open Teams. The USA had two entries and Canada had one entry in each event. The USA scored the most overall medals. USA1 took the silver medal in the Bermuda Bowl, USA1 captured the gold medal in the Venice Cup, USA2 took the gold medal and USA1 took the bronze medal in the Senior Bowl.
USA MEDALLISTS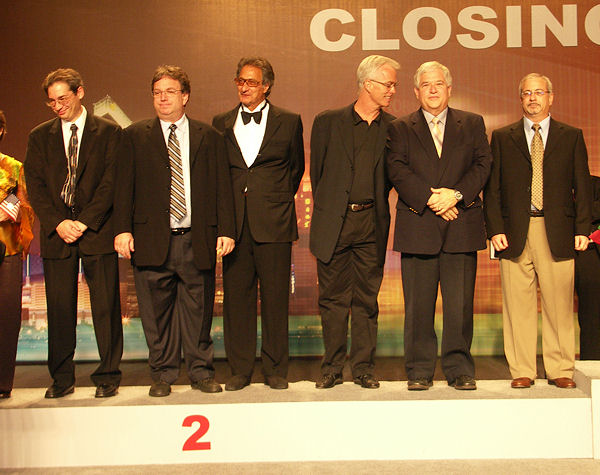 Bermuda Bowl - USA 1, SILVER MEDAL
Michael Rosenberg, Ralph Katz, Zia Mahmood, Steve Gardner, George Jacobs, Howard Weinstein, Chip Martel and Jan Martel (npc)
Venice Cup - USA 1, GOLD MEDAL
Gail Greenberg (npc), Jill Levin, Jill Meyers, Debbie Rosenberg with son Kevin, Irina Levitina, Hansa Narasimhan and Joanna Stansby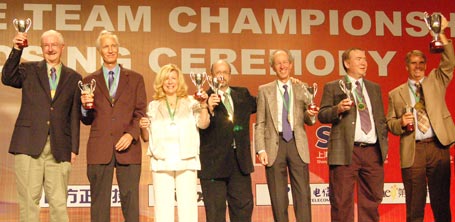 Senior Bowl - USA 2, GOLD MEDAL
Lew Stansby, Grant Baze, Rose Meltzer, Alan Sontag, Bart Bramley, Roger Bates and Kyle Larsen (npc)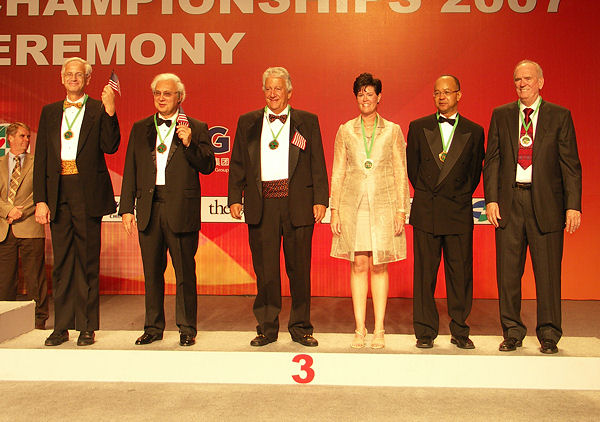 Senior Bowl - USA 1, BRONZE MEDAL
Dan Gerstman, John Sutherlin, Gaylor Kasle, Donna Compton (npc), Ron Smith, Dan Morse, missing Bobby Wolff
World Computer-Bridge Championship
The 11th World Computer-Bridge Championship was also part of the championships in Shanghai. For complete results and information on all the computer-bridge championships, see www.computerbridge.com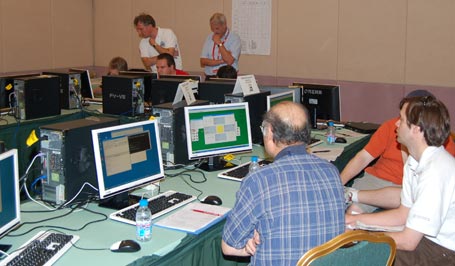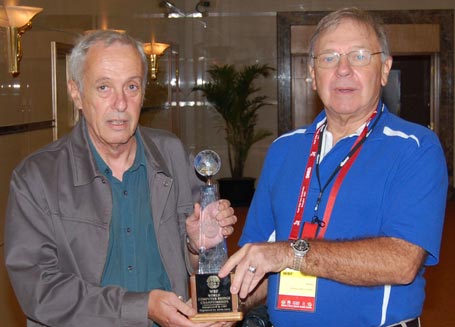 The 11th World Computer-Bridge Championships pitted eight robot teams against each other. Yves Costel, developer of Wbridge5, accepts the Championship Trophy from Al Levy, who has organized the World Computer-Bridge Championships for more than a decade. Complete results, as well as the history of robotic play, can be found at www.computerbridge.com
2008 World Bridge Championships
part of the
World Mind Sports Games
Beijing, China
October 3-18, 2008
The recently established International Mind Sports Association (IMSA) has organized the 1st World Mind Sports Games, following the 2008 Olympic Games in Beijing, China. IMSA comprises Bridge, Chess, Draughts and Go. These mind sports along with Chinese Chess, will be represented at the inaugural World Mind Sports Games. This demonstration by the major world mind sports may well prove the doorstep to the Olympic Games. Go to www.worldbridge.org/IOC/IOC.htm
All World Bridge Federation member countries are invited to participate in the bridge series of the 1st World Mind Sports Games. Each country may be represented by one national team in the open series, one team in the women series, and one team in the youth series consisting exclusively of players born in 1980 or later. Lodging and food at the Olympic village will be borne by the WBF.
A series for national senior teams will also be held. Also, on the second week of the games, the World Transnational Mixed Teams competition will be played.
Finally, the World Youth Team Championships, comprising series for zonal representative teams of players under-26 (formerly, Juniors) for the Ortiz-Patiño Trophy and under-21 (formerly, Schools) for the José Damiani Cup, will also be contested in Beijing. There will also be Pairs and Individual competitions open to players born in 1980 or later.
The 2007 edition of the Laws of Duplicate Bridge is now available. The new Laws come into effect from January 1, 2008, but NBOs have until September 30, 2008 to bring them into force. All World Bridge Federation events will be conducted under the new Laws as from January 1, 2008.
• For the new Laws, click here
San Francisco is a great place to have an NABC. A city that has great restaurants, entertainment, interesting sightseeing and a city to just relax in. Our players came in large numbers and the table count of 14,858.5 was beyond expectations, greater than the 2004 Fall Reno NABC, and the third largest Fall NABC ever. In total there were over 6,500 players from North America and 40 foreign countries. Just as in Honolulu and New York City, to name two recent NABC cities that attracted many tourists, our players took days off to tour. Beverly and I toured the wine country one day, spend time at Fisherman's waft one afternoon, saw Jersey Boys one evening and took off one evening to have a relaxing dinner at a fine steak house. We will be back in five years, when the 2012 Fall NABC will be held in San Francisco.
Top 20 District 24 players in NABC+ event
Bobby Nail Life Master Open Pairs: Zia Mahmood, WINNER; Michael Rosenberg, 4th; Roy Welland - Robert Levin, 3rd; Michael Moss, 10th; Michael Rosenberg, 14th; Michael Polowan, 17th.
Helen Sobel Smith Life Master Women's Pairs: Jenny Wolpert, 3rd; Susan Wexler, 9th; Debbie Rosenberg, 10th; Judi Radin, 16th.
Victor Mitchell Open Board-A-Match Teams: James Cayne, 4th; Michael Moss, 5th; Joe Grue, 6th; John Kranyak - Melanie Tucker - John Hurd, 16th; Alan Sontag, 18th; Christal Henner-Welland - Roy Welland - Chris Willenken, 19th; Zia Mahmood - Michael Rosenberg - Steve Weinstein - Robert Levin, 20th.
Marsha May Sternberg Women's Board-A-Match Teams: Valerie Westheimer, 2nd; Jenny Wolpert, 4th; Jill Levin - Debbie Rosenberg, 15th.
Edgar Kaplan Blue Ribbon Pairs: James Cayne, 6th; Zia Mahmood, 8th; Michael Rosenberg, 10th.
Senior Knockout Teams: Amos Kaminski, 3/4th; Mel Colchamiro, 3/4th.
Reisinger Board-A-Match: James Cayne, WINNER; Sam Lev, 7th; Jim Krekorian, 9th; Roy Welland - Chris Willenken, 10th; Alan Sontag, 12th; James Rosenbloom, 14th.
Ethel Keohane North American Swiss Teams: Kelley Hwang, WINNER; David Maidman - Marin Marinov, 4th; Joe Grue, 10th.
Player of the Year
Roy Welland won the 2007 Player of the Year award, given to the player who wins the most platinum masterpoints, available only in NABC+ events.
Starting next year, the award and trophy will be named after Paul Soloway.
ACBL State-of-affair

Membership
Membership has increased this year by 1,000, to approximately 158,000. Membership has been slightly increasing over the past few years.
Finances
The 2007 Budget was originally set to produce a yearly surplus of approximately $200,000. The end of year results show an actual surplus of $1,200,000. Some highlights for the large surplus include: membership dues increase due to new members; higher sanction fee revenue due to increase table count at Regionals, Sectionals, and online bridge; increased income from the sale of the ACBL Product Store inventory and sale of the Memphis headquarters building; decrease in staff salaries, due in part to two major vacancies, a marketing Director and a CFO; and decrease in marketing programs.
Current net assets are approximately $8,500,000, up from $7,125,000 a year ago.
In 2008, there will be no increases in: membership dues; sanction fees and Director session fees to sponsoring organizations; and NABC entry fees.
New ACBL Headquarters
The ACBL has sold its headquarters building in Memphis and is looking to move headquarters to another site either in the Memphis area or to Atlanta, Dallas or Orlando. Relocation expenses are expected to range from $75,000 to stay in the Memphis area to over $500,000, to move to one of the other cities.
Director issues with Department of Labor
The ACBL has asked the Department of Labor to clarify overtime issues for our Directing staff. Overtime issues include traveling time, applies to working over 40 hours/week. Recently, Peter Marcus and Susan Patricelli have sued the ACBL for unpaid overtime.
NEW STaC fees, effective April 1, 2008
Currently, sponsoring organizations (Unit organizations) pay Director sessions and sanction fees per table, as well as other minor expenses. Under the new plan, Director fees and sanction fees will be combined and charged based on the total table count. The new fee schedule is: $4.50/table for STaCs up to 500 tables; $4.25/table for STaCs between 501-1,000 tables; $4.00/table for 1001-2000 tables; $4.00/table for 2001-4000 tables; and $3.50 for STaCs over 4,000 tables. Under this plan smaller Units can now afford to run STaCs. Currently small Units can't afford to hire a Director to run a small event. Units and Districts that run larger events will pay higher fees under the new plan. Florida, for example, runs 4,000 table STaCs.
Currently the GNYBA and NSBA, as well as four Units in District 3 and one Unit in District 25, schedule their STaCs to run at the same time. The seven Units hire one Director and split the session fees. While the seven Units have run their STaCs together, for the most part they have scored their STaCs separately. Under the new plan, if our Units continue to score by Unit (as opposed to combined Units), the table fees will be based on each Unit's table count. This will result in an increase in fees of approximately $500/Unit for each STaC, based on a Unit table count of between 750-950. If the GNYBA and NSBA were to combine their games (score across both Units), each Unit would save $0.25/table (approximately $225/STaC), and if all the seven Units were to combine their games, the GNYBA and NSBA would save another $0.25/table (for a total of approximately $450/STaC, bringing the expenses down to where they are currently...before the new pricing).
Board Actions
A motion to eliminate International Fund Games at clubs was defeated 22-3. The motion was an attempt to limit funds going to International players that represent the USA at world championships, and was motivated by the recent incident at the award ceremony in Shanghai, where the winning Venice Cup Team held a sign reading "We Did Not Vote For Bush" while the national anthem was playing.
A motion to allow any defense to a 1NT opening as a General Chart Convention was defeated 18-6-1. Many defenses over 1NT require supplying the opponents with a reasonable defense, and as such, belong as a Mid-Chart Convention.
A motion to allow 10-18 NT as a Mid-Chart Convention was deferred and sent to the Competition and Convention Expert Committee for comments.
A motion to buy copies of "A Desktop Guide for Nonprofit Directors" at $110 per copy was defeated 18-7. This book is primarily designed to help nonprofit organizations, such as Charity Foundations, and may not be best suited for not-for-profit organizations.
A committee will be appointed to study the requirements for becoming a Life Master as well as other ranks.
A motion to limit conversation to English once hands have been removed from a board, and the board remains in play, was passed unanimously.
A motion to allow Districts to opt to not have Unit qualifying NAP games was passed 24-1. Units may still hold a non-qualifying Unit final as a promotional event.
Board member expense reimbursement was increased from $750 to $1,000 per NABC. This is the first increase in eight years. At the same time, the spousal airfare ticket to one NABC was removed.
2008 ACBL Goodwill Committee and Charity Committee Appointments
Congratulations to District 24 recipients. The lifetime appointments are well deserved.
ACBL Goodwill Committee
Stephanie Russo
Sherry Jackson
Rose Gargiulo
Dom Gargiulo
ACBL Charity Committee
Lesley Decker-Lucas
Zia Mahmood